Back to top
Women's History Month Feature: Jill Jennings Dinsmore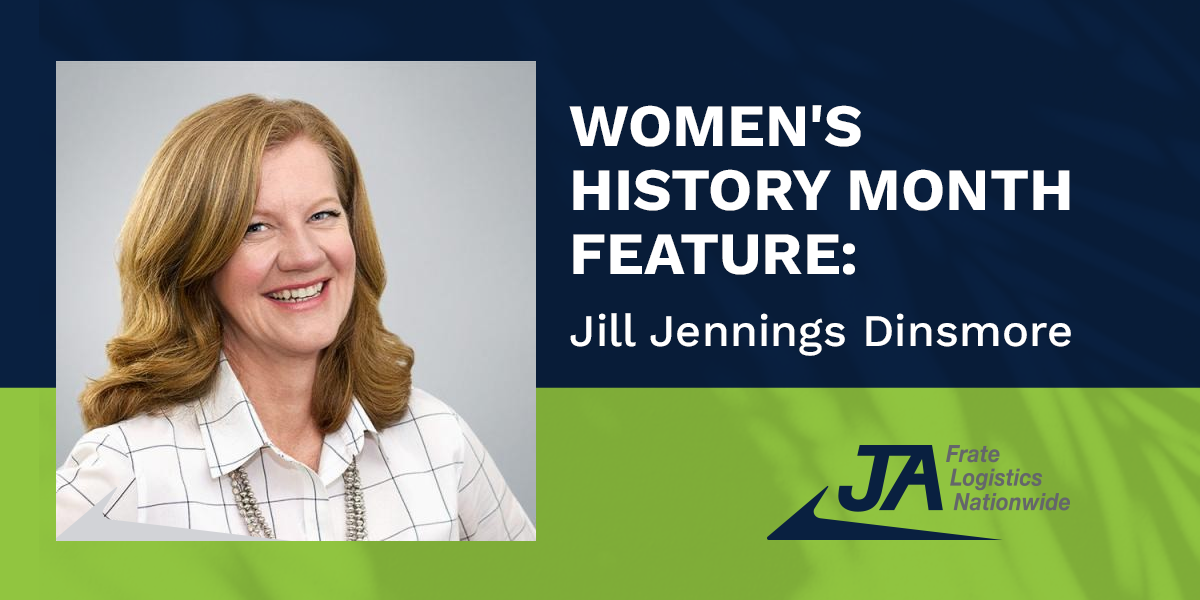 Jill Jennings Dinsmore; President
In honor of Women's History Month and International Women's Day, JA Frate is proud to spotlight our president, Jill Jennings Dinsmore.
Jill started in the business young. As a kid, she'd ride along with her dad to the airport to drop off packages in his '67 Saab station wagon if an LTL carrier would miss pickups in their rural area. He was a man with four children who wanted to be an entrepreneur and do better for his family. She watched him build his dream, and his reputation. His story influenced Jill and how she sees the company and her role in it today. Not only to carry on his legacy, but because it's the culmination of the Great American Dream. Everyone at JA Frate is part of a team built on the promise of opportunities to do better for their families. 
When speaking to Jill, her passion for what she does is clear, as is her experience and knowledge. The thing she loves most about her job is the people. While she started in compliance, a place where she built on her strengths of organization, math, and writing, when she moved into HR, she saw how critical it was to have the right people on the team. "It's a 'speed of light' industry, with technology today and where the next creative solutions are going to come from to solve someone's problems. It's the people who help us look forward and innovate while still telling our story and its evolution."
The leadership team at JA Frate is fifty percent woman. Jill says that people are curious as to how she came to lead the organization, but the fact that JA Frate is woman-led is not an anomaly. Jill credits that to the highly visible supply chain industry created during the pandemic period. There are new education opportunities too. Previously, very few people pursued transportation and supply chain management degrees, so many more people have been drawn to the industry. Not just to leadership positions, but operations, analytics and front line opportunities. While previously, this was a male-dominated space, JA has as many women driving forklifts and working in warehouse administration as it does men. JA Frate provides a flexible workplace designed to support families and a healthy work-life balance for all of their employees, in keeping with their founder's vision. 
One of the ways that Jill supports other women in the industry is passing on the things she's learned with mentorship. While it's a requirement at JA Frate for leadership to engage in mentorship, often outside their organization for personal development, it's something she does because she believes in it. It's not just about speaking, more about  listening. Something she learned decades ago, the leader is not always the loudest person in the room. It's the knowledge, the presence, and ethics that make you a leader. 
Another way she supports other women in the industry is making introductions, referrals, providing skills and leadership training. She also tends to hire those who haven't had a traditional career path. She's not as focused on a candidate's specific title, credentials, or who they are on paper. She cares more about who they are as a person, their life experiences, and how they can bring a new lens and new perspective to the organization. 
Her LinkedIn profile says Jill is a problem solver. When asked if that was a teachable skill or something that you're born with, her response was, "I'd say it's both. As a kid, I loved puzzles. I found the more puzzles you solve, the more solutions you have and you can apply that to the next puzzle. We take successes and failures and use the knowledge to solve new problems. This is a fight or flight industry, situations happen. Pre-planning and communication go a long way in taking away fear and staying in front of changes." 
And her focus is still all about the families that work for JA Frate. When Jill takes on these problems her decisions, and those of the leadership team, are all with the impact to those families in mind. 
That's the great part about working for smaller companies, she says. People want to be heard and they want to make a difference. They want to be known and know they can make a difference. 
"I'm honored to be able to carry on and leave this company better than what it was, but to be able to offer 3PL, warehousing, be a true transportation solutions company and to be able to have the partnerships that help others succeed… I'm super proud of my family. Of the JA Family. Especially when I see one of our drivers who works so hard for us telling me he bought his first house. Or when a driver brings their daughter to meet me and he or she says, 'Yes, this is really my boss.' Driving a truck isn't just a boy's job anymore."
JA Frate is a family company from stem to stern. From employing veterans when they come back home, to supporting youth sports, and being responsible in their community. It's obvious with Jill Jennings Dinsmore at the helm, the future is bright indeed.