Back to top
Empowering Futures: JA Nationwide's Journey to WBENC Certification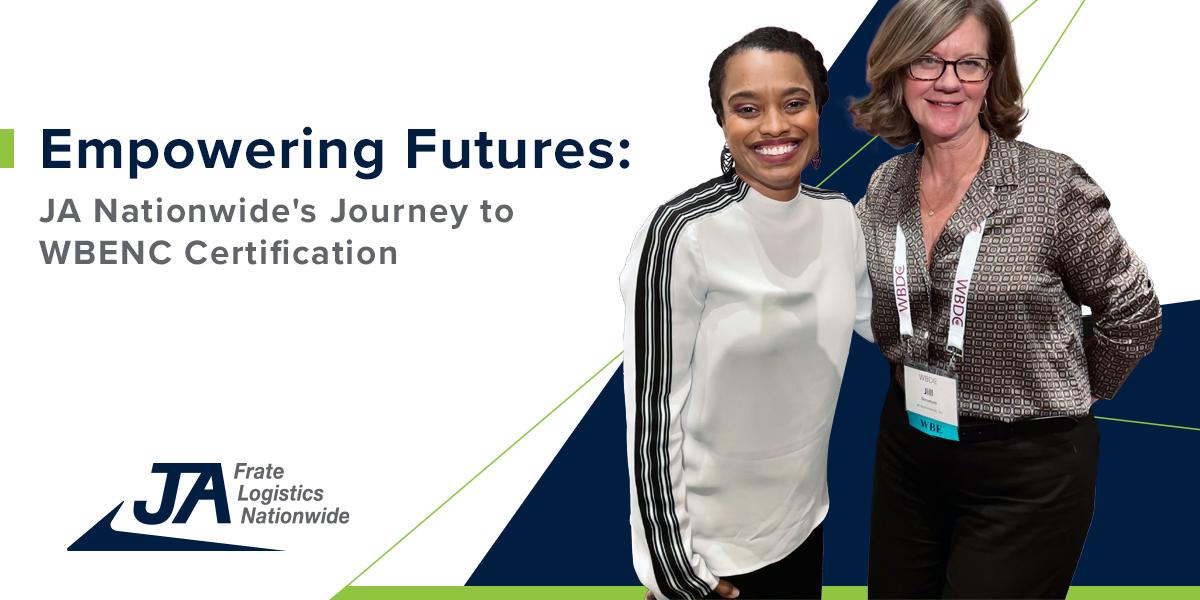 Redefining Industry Standards Through Female Leadership and Innovation
One of the most substantial ways to level the playing field in a male-dominated industry like trucking is to encourage more women-owned businesses to plant their flag. As businesses start to shift their focus, more often they are looking to diversify the vendors and services they use, eager to reach out to companies that reflect their own evolving values. 
"Marketing experts tell us that every four to seven years a business needs to reinvent itself. But we're always in a constant evolution in logistics and especially trucking," explains Jill Dinsmore, President, JA Nationwide, Inc. "It's transportation driven by technology moving at light speed. It was fundamental to us to make sure we're establishing ourselves and staking our claim."
According to WBENC.org, "WBENC Certification validates that a business is at least 51 percent owned, controlled, operated, and managed by a woman or women. This means one or more women must have unrestricted control of the business, a demonstrated management of day-to-day operations, and a proportionate investment of capital or expertise. To become certified, business owners undergo a thorough vetting process, including review of business documentation and a site visit."
Receiving the certification from the Women's Business Enterprise National Council (WBENC), a third-party certifier for the SBA's Women-Owned Small Business Federal Contracting Program is a complex process that took nearly a year to complete from capital acquisition to approval.  
"Being part of the WBENC exposes us to a vast network of businesses owned and managed by brilliant women. Opening doors to vendors and customers and partnerships reminds us every day that our character matters." 
Part of the success, especially in the last ten years, is not only because of Jill's stewardship but because she brought in a platform and a way of doing business that allowed JA Nationwide to grow alongside their clients. It happened because they grew from entrepreneur to truly evergreen without losing the personal touch they are known for in the community. Chat bots can assist a team but real people need to pick up the phone and drive the trucks - we still need people backing up the tech to provide solutions to the customers. 
If you want to learn more about integrated transportation services driven by real people in a women-owned business, contact your JA Nationwide representative to learn more.