Back to top
Sixth Consecutive Year: Uline's Carrier of the Year Award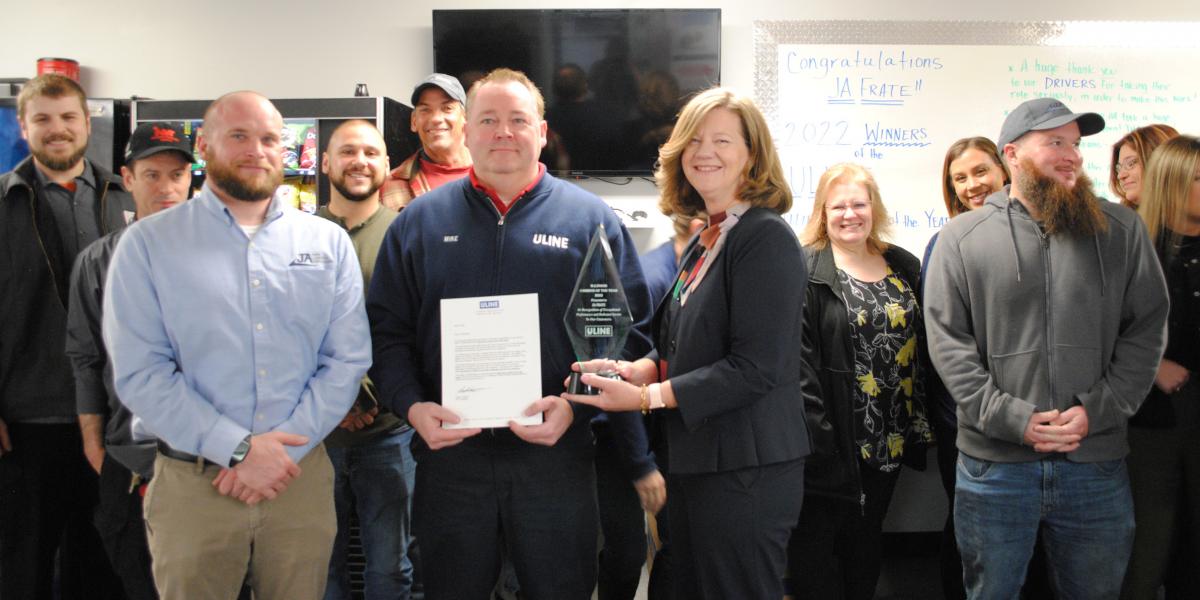 The JA Team delivers! JA Frate celebrated the official presentation of the 2022 Uline Carrier of the Year – Illinois Branch on a cold, snowy April morning. This makes the sixth consecutive year JA Frate was named Carrier of the Year by our largest customer. In recognition of JA Frate's partnership, dedication, and teamwork that combine to fulfill the promise of superior service. Uline's presentation by Mike Sholar, Branch Logistics Manager, reminded the JA Team how hard they work together to ensure consistent delivery.

Numbers and stats for 2022 include 112,401 shipments with JA Frate for a performance of 98.08% for on-time deliveries. The Illinois winter weather which stretched into late April keeps the JA team challenged to provide dependable deliveries, but we rise to the occasion by being the "Most Dependable Transportation Service in the World."

Uline provided donuts and coffee, and our team will have a raffle for all the gifts and swag brought by Mike Sholar. We very much appreciate the gifts and proudly display our new Carrier of the Year award next to the others.

"Our dependable difference is our team," says Jill Dinsmore, President of the JA Group, leading our staff through 2023 expectations and goals. If you need to solve your complex transportation needs, please reach out to JAFSales@jafrate.com for more information about our integrated services using JA Frate, JA Logistics, and JA Nationwide.